Colour and Style Parties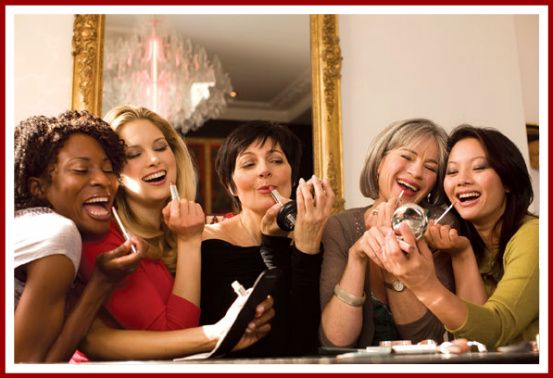 Fun Style Parties while getting expert image & beauty advice!
Get together a group of up to six of your friends and get ready for a colourful or stylish evening:

Perfect party ideas that will provide lots of fun and useful information too. For groups of all ages, lifestyles and requirements. After one of our fun parties you will have invaluable information on how to make the best of your assets!
You can choose from Colour or Style or save money, combining them both into a Diva Day:
Colour
Colour is the first step to updating your look. When you wear the right colours, it will instantly make you look more vibrant, current and younger! In a Colour Party, you will learn about your individual 'dominant colouring' and find out which colours flatter you most and how to wear them.
Have fun discovering:
Why certain shades suit your natural colouring more than others

An assessment of colours that suit you & how to spot them

How to tweak your existing wardrobe to make it more versatile

Advice and tips on make-up colours that naturally suit you

Just £59 for up to six persons (about two hours)
Style
Do you know your body shape and your measurements? It is impossible to dress your body well until you do!
In a Style Party, you will have fun discovering how to select the most flattering styles and fabrics for your body shape as well as helping you to find your style personality.
You will learn how to:
Choose the most flattering styles for your shape and proportions

Express your personality through your clothes

Dress with confidence whatever the occasion
Just £59 for up to six persons (about two hours)

I can arrive between 6 and 8 pm, and the party will last about two hours. *
If you prefer to party during the day, or even on a Sunday, just ask! Or alternatively, save money and double the stylish fun with one of our...

DIVA DAYS
Incorporate colourand style.
A Diva Day last about 3-4 hours and is just £99 for up to 6 persons.
*All the above services are mobile until further notice. I come to you at no extra cost, within ten miles of Dunoon, on this side of The Clyde. For other requirement please ask.
Don't delay the fun. Contact me, Janet, to arrange or to find out more.