Janet Male - Image & Life Coach
I'm Janet Butler Male, Personal Stylist, Stress Consultant, & Author ~ Hello, and lovely to meet you.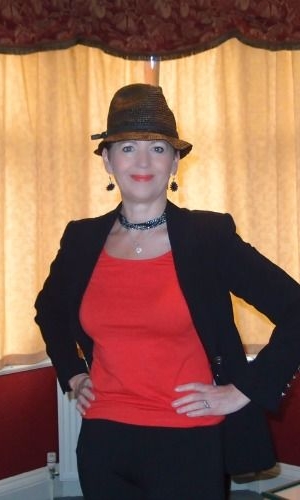 I trained with Europe's leading Image Consultants, Colour Me Beautiful, as a Personal Stylist. This natural development builds upon my years spent working for various makeup companies, including Christian Dior and Clinique, and my experience in owning a few jewellery and fashion boutiques, over the years.
Together we can find your very best colours and styles for make-up, clothes and accessories to suit your personality and lifestyle.
I also trained with the British School Of Yoga as a Professional Stress Consultant. Before this, I had been fortunate to travel much of the world and study many alternative techniques for blissful living, health and happiness. But, undoubtedly the most significant help to me was meditation, and over twenty years later it still is. It is the firm foundation of my daily life and business! With my stress consultancy clients, I always begin with meditation, then iron out any remaining niggles afterwards. Often meditation is all that is needed, other 'problems' automatically resolve.
Together we can unveil the happiest and most positive you!
That may be all you want or need to know about me, but if you want more of the background, read on:
I was born in Liverpool and moved to the Wirral when I was eight, staying until I was twenty-five. Since then I've lived the 'high life' in London and the 'quiet life' on the Isle of Skye and now somewhere-in-between, in Dunoon, near Glasgow.
There have been successes and failures BUT, I've succeeded in discovering, almost by accident, that there are more natural ways to cope with our challenging world and enjoy life to the full ~ every day!
In London, I was outwardly successful but had that 'there has to be more to life than this' feeling. I had a cheerful veneer that fooled most people, but inside I was stressed and anxious. I decided I needed help.
I tried everything from conventional counselling to retreats at 'top' Health Spas and almost every therapy and a variety of 'ologies' and 'isms' that you could think of; aromatherapy, all kinds of massage, flotation tanks; with no lasting benefits.
Then, out of the blue, I had one of those 'Eureka' moments, which changed my life forever. It suddenly dawned on me what the matter was. I was continually dependent on someone else to make me feel better, and the relief was always short lived.I wanted something that was efficient, long-lasting and that I could do for myself.
Meditation had to be the answer, but I was dismayed to discover that I just couldn't do it. Then one day a stranger told me about a deceptively easy method that had improved her life dramatically. As luck would have it, there was a course starting only that week, and I booked immediately, after a short introductory talk.It worked like a dream. I instantly felt lighter and happier than I had in years.
My mind seemed clear, rather than burdened with endless thoughts. Life spontaneously became more effortless and joyful. Little things that had bothered me no longer did.
Meditation helps you see beyond convention and enables you to get you what you want out of life.
Meditating makes us look younger than the date of our birth certificate shows. Add personal styling advice to the mix, and you only add to the dazzling effect!
After my training with British School of Yoga, I developed a meditation technique called The POWER Method©, which is similar to the Transcendental Meditation I had been doing for years.
I use my deceptively simple, but powerful, meditation as a master key to help people who seek my professional advice, as an image and stress consultant, on many things from anxiety to anti-ageing.
I have now taught it to a lot of clients who report fantastic results. It is like having a turbocharger when it comes to resolving any lifestyle problems.
When you meditate lots of good things come naturally and, so many positive impulses come from within, honing your intuition.
You achieve terrific results so much faster with less effort and cost. I can't begin to tell you how useful it is when you haven't experienced it for yourself.
So, if you add meditation to the mix, you will always have an ace up your sleeve for living a happier life. Add to that some invaluable but straightforward style tips, and you will also be your personal style guru!
I think that's enough about me, your Image and Life Coach. Click to return to the Home Page. See you there!